The Last Macedonian - Road to Extinction
Genre: Documentary - History

Release Year: 2015

Duration: 60 minutes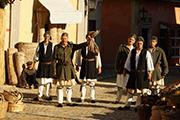 Synopsis:
Bloodshed, breakup of families, powerful neighbours, and a desire to destroy Macedonia: The homeland is broken up into many parts but its heroes left with a strong sense of independence and self-identity. One hundred years later, after numerous divisions and destruction, new characters fill the stage but there are still a few steps more to go in the story of Macedonia. Historians from Serbia, Greece, Bulgaria, Turkey, Russia and Macedonia present facts and evidence, some of it never-before revealed. Shot on location in Bitola and the surrounding area.
Shown at Manaki Brothers' International Cinematography Festival in Bitola, 2015.
Director Information:
Biography:
Ilija Piperkoski is both an actor and director. He has directed many documentary films and is currently working on a dramatic feature film called 'Grandfather and Grandson', set for release in 2018.
Genre: Documentary - History

Release Year: 2015

Duration: 60 minutes
Directed by: Ilija Piperkoski

Screenplay by: Aleksandar Kukulev

Produced by: Snezana Lupevska Sozen

Leading Roles: Mitko Apostolovski, Zarko Dimoski, Petar Gorko