The last church bell
Genre: Short, Drama

Release Year: 2017

Duration: 13 minutes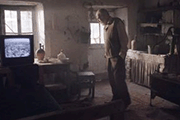 Synopsis:
The last remaining occupant of an old abandoned village uses a church bell to communicate with the last remaining occupant of a neighbouring village. One day, the old man is extremely disturbed by the fact that the bell from the other village is silent. He decides to go to the other village, where he finds his friend dead. He buries him and then returns to his everyday life. After a while, the old man is disturbed again when the usual silence is broken by the bell from the other village.


Filmed in the villages of Lubojno and Brajchino, Macedonia
Awards and Screenings:


The Last Church Bells was winner of several prizes including best short film at both the Montreal World Film Festival and the Saint Petersburg International Film Festival, and has been shown at more than a dozen film festivals around the world including Belgium's Leuven International Short Film Festival, Ireland's Fastnet Film Festival in Schull, and Australia's Macedonian Cinema Days in Sydney.

Winner, Best short film, Montreal World Film Festival, Montreal, Canada, 2017
Winner : Saint-Petersburg International film Festival, Saint-Petersburg, Russia 2018
Award for Best Cinematography Light for World Festival
2nd place, Short Fiction Competition, Yaroslavl, Russia 2018

List of Screenings:
International Short Film Festival in Drama, Drama, Greece 2017
Kinenova, Skopje, Macedonia 2017
Cinedays, Skopje, Macedonia 2017
Leuven international short film festival, Leuven, Belgium 2017
Sylhet Film Festival, Sylhet, Bangladesh 2018
Globe International Silent Film Festival, USA 2018
Fastnet Film Festival, Schull, Ireland, 2018
Skopje Film Festival, Skopje, Macedonia 2018
Balkan Film Food Festival, Pogradec, Albania 2018
Kraljevski filmski festival, Kraljevo, Serbia 2018
Macedonian Cinema Days, Sydney Australia 2018
Director Information:
Biography:
Nikolce Popovski is a film and television director. He has done several projects on film and television. His signature as director stands on two short documentaries (Komaja, Bale), three short fiction movies (All or nothing, Just before the end, The last church bells), several feature-length documentaries, one feature length fiction movie (Happy new '903), two documentary series, over 150 episodes of television series and various television broadcasts as well. At the moment, having recently finished The Last Church Bells, he is working on the post-production of a fictional series entitled as The Red Poet, which deals with the life of one of the most important Macedonian poets – Kocho Racin. Nikolce Popovski graduated at the Faculty of Dramatic Arts in Skopje, at the department of film and TV directing in 2006, in the class of Prof. Stole Popov. He began his professional engagement during his studies and has since then gained professional experience from several fictional, documentary and other projects for film and television.
Genre: Short, Drama

Release Year: 2017

Duration: 13 minutes
Directed by: Nikolce Popovski

Screenplay by: Nikolce Popovski

Produced by: Goce Kralevski

Leading Roles: Meto Jovanovski