I witness (A.K.A Wait for me) (2016)
"(Adult themes, coarse language)"
Genre: Feature - Action, Drama

Release Year: 2016

Duration: 113 min

Directed by: Mitko Panov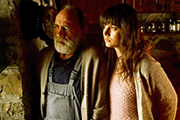 Synopsis:
"Wait for Me" aka "I Witness" is a political thriller/action drama about an enthusiastic junior officer from The Hague War Tribunal in pursuit of justice. The arrest of General Miro Pantic ends a decade-long manhunt that had frustrated his Western pursuers and left festering one of the bloodiest chapters in Europe's recent history. He had been indicted by a War Crimes Tribunal on charges of crimes against humanity, but when an young envoy from The Hague (Padraic Delaney) goes looking for an internal witness – Nikola Radin, alas The General (Bruno Ganz) - the problems begin. No one wants The General to testify against Pantic, whom they perceive as their national hero. The fierce manhunt in the Balkan mountains will give a life-changing lesson to the young envoy who will come to understand that there are many more shades to what he thought was a black-and-white picture.
Special Presentation by Director Mitko Panov - Q & A with Mitko Panov
Sponsored by: Canadian Macedonian Place Foundation
Director Information:
Biography:
Mitko Panov was born in 1963 in Skopje, Macedonia. He holds both Swiss and Macedonian citizenship. From 1983-88 he studied directing at the Lodz Film School. From 1992-95 he was Assistant Professor of film directing at Tisch School of the Arts, New York and in 1992 was a founding member of New York Film Academy and its Paris branch in 1998. He was visiting Professor at the HFF (Hochschule fur Fernsehen und Film) Munich from 1995-99. He held the position of Associate Professor, film production and directing, University of Texas in Austin, from 1998-2008. His films have won many international awards including the Golden Palm for best short film in Cannes (1991).


Panov is recipient of a number of grants and fellowships including the Rockefeller Fellowship for US Film and Media artists, the Guggenheim Fellowship for distinguished artists and scholars and the Sundance Soros Documentary Film Grant.
"(Adult themes, coarse language)"
Genre: Feature - Action, Drama

Release Year: 2016

Duration: 113 minutes

Directed by: Mitko Panov

Screenplay by: Mitko Panov, Wadyslaw Pasikowski, David Riker

Produced by: Francine Lusser, Gerard Monier, Jean-Luc Ormieres, Mitko Panov

Leading Roles: Bruno Ganz, Natasha Petrovic, Padraic Delaney